ASHIANA clients surprised to run into the 21st Lord Mayor of Sheffield – Anne Murphy at Whirlowhall Farm 
A group of women receiving support from ASHIANA in Sheffield while on a farm visit to Whirlowhall Farm organised by SEM on August 24th 2017 were surprised to run into the Lord Mayor who gladly came over to talk to them.
The women from countries such as Ethiopia, Somalia, Vietnam, South Africa, Pakistani etc. were so excited that they took turns to pose for selfies and a group picture with the Lord Mayor.  
The women described their experience of the visit to the farm which is the first time ever out of Sheffield to the countryside as overwhelming, saying life in the city is depressing and that found solace in the countryside environment.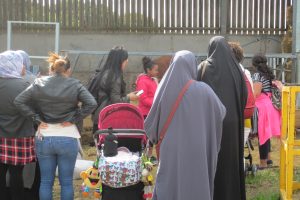 The women said this was different as it gave them the freedom to bond with nature and to interact with one another in peaceful environment.