On 27th May 2021 Maxwell joined professor Maggie O'Neill of University College Cork, for a virtual walk!
Supported by the Walking Publics/Walking Arts initative – the 'virtual' walk' is a walk taking place at the same time by people in different geographical locations. Walkers are linked by via mobile phones or other mobile devices so that they are able to talk to each other in realtime and share images during the walk.

While Maggie chose to walk around Robin Hoods Bay
Maxwell walked through beautiful woody areas near Gleadless Valley.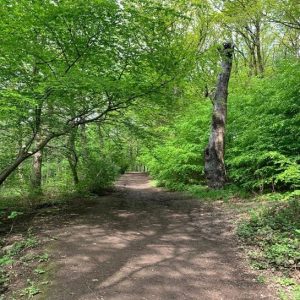 You can read more about the walk WalkingPublics/Walking Arts website.
Walking Publics/Walking Arts  is  a  research project  funded by the Arts and Humanities Research Council  exploring the potential of the arts to sustain, encourage and more equitably support walking during and recovering from a pandemic.